Image by Stylus photo / shutterstock.com
I have owned my own business for over 12 years and I am well aware of the challenges facing SME's in Ireland and across the world. It is frustrating for business owners who read articles about how they should be selling online and using social media to boost their business when in reality most small business owners haven't the relevant skills and they wear so many hats in their business that they can't afford the time or the resources to commit to digital.
Yes your business needs a presence online but my advice to any SME and large organisations is to keep it simple: start with the basics and build from there. Too many companies try to do too much too soon and often give up due to pure frustration.
Three things every business should do.
1. How do you appear on Google?
95% of people in Ireland conducting online searches use Google so lets focus on Google. Start by Googling your business name and your business sector in the location you operate. For example one of our clients is Cunningham's Pharmacy who are based in Bray. So in their case, Google "Cunningham's Pharmacy" and "Pharmacy in Bray". Now apply that to your business. How do you rank in Google. Can people find your business name over your competitors and is your contact details easy to find online?
Solution
Register your business on Google through Google My Business. This allows you to add your business description, phone number, website and directions to your listing on Google. This will maximise your presence online when someone is searching for your business or the service or product you provide.
2. Have you registered digital assets under your business name?
You may remember Mark Wright who won the English "Apprentice" in 2014. He announced he wanted to start a digital marketing company called "Climb Online" but the website domain name was already registered to a rock climbing organisation. Don't make the same mistake!
Solution
Even if you are not using it at present register the website domain name for your business in ".ie", ".com" or any other top level domain name relevant to your business, i.e anywhere you intend to do business. Also register your business name on all social media applications: Facebook, Twitter, Google Plus, Youtube, Tripadvisor etc. You might not use it today but you want to protect and own your business name online.
3. Invest in a website that is optimised for Google!
With the explosion in popularity of smartphones, people are using their phones to search for products and services: they are researching online and purchasing offline. It is amazing how many times I have seen companies that have invested in a new website that doesn't target their industry or what their customers are searching for on Google (By the way, this is not the companies fault, it is the fault of the website design company who often do not have the expertise in this area). The website can be nice to look at but when it is not optimised for search engines it is like having a new Mercedes with no engine.
Solution
When you are choosing a design company, ask them how they will target your customers? As a customer you are entitled to get the new Mercedes with the new engine!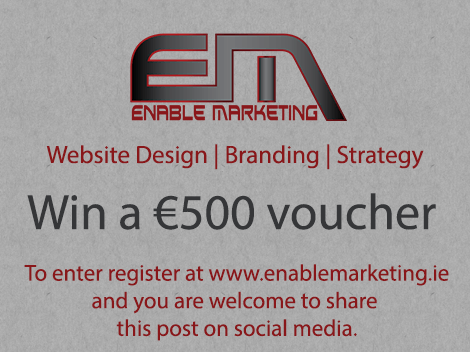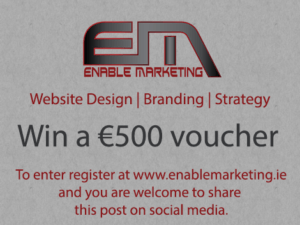 We are giving away a €500 voucher which can be used for website design, branding/logo design or marketing strategy, you can enter here.

Latest posts by Cathal Quinn
(see all)